Trial Data / Platform Tour
Help Index
>
Trial Data / Platform Tour
1. Background
Patient-based data from clinical trials cannot generally be made public for data protection reasons. Since there is no concept and few standards for data sharing, a lot of data remains hidden forever.
2. Solution
Data in the Health Atlas is systematically prepared together with the data generating groups and then uploaded and presented in various formats and for online exploring. The metadata enriched
CDISC
ODM
format is used consistently,
SPSS
and Excel formats are generated. The Health Atlas is bound by data protection laws and patient approvals. Therefore, only
basic results
of the studies are offered to registered and authorized users online, which is decided by the study management. Metadata is public.
3. Guided Tour
Task: Retrieve and view data from Trials of the

LIFE

Head and Neck Cancer Group (

LIFE

-

HNC

)
Which projects are related to head and neck cancer?
Which trials are available from the
LIFE

-

HNC

?
Download studie data and metadata of the presented studie
navigate through the tree by double clicking the data files
Explore Data
You need user credentials to explore contents from this project (which are: username: lha, password: lha)
Click on the i2b2 button of one of the data files
Your are now redirected to the Health Atlas instance of the i2b2 Query and Analysis Tool from the i2b2/tranSMART Foundation (see https://www.i2b2.org/)
The login form should be pre-filled, if not, use the credentials mentioned above.
You have now access to all published trial-data of this group.
In i2b2, look into upper left "Navigate Terms" click on "Trials". This opens all available trial data sets.
The number to the right (e.g. 124) indicates how many patients own this "concept"
Open "Demography/Sex"; drag the concept "male" to "Group 1" on the right
Open "HPV status" and "HPV16

DNA

RNA

status (code)"; drag "DNA+RNA-" to "Group 2" on the right
Click "Run Query"; check "Age patient breakdown" (scroll a little)
Click "Ok"; your just performed an sql join statement…
See result in in "Graph Results": 16 patients are found. For age distribution scroll "Graph Results" down a little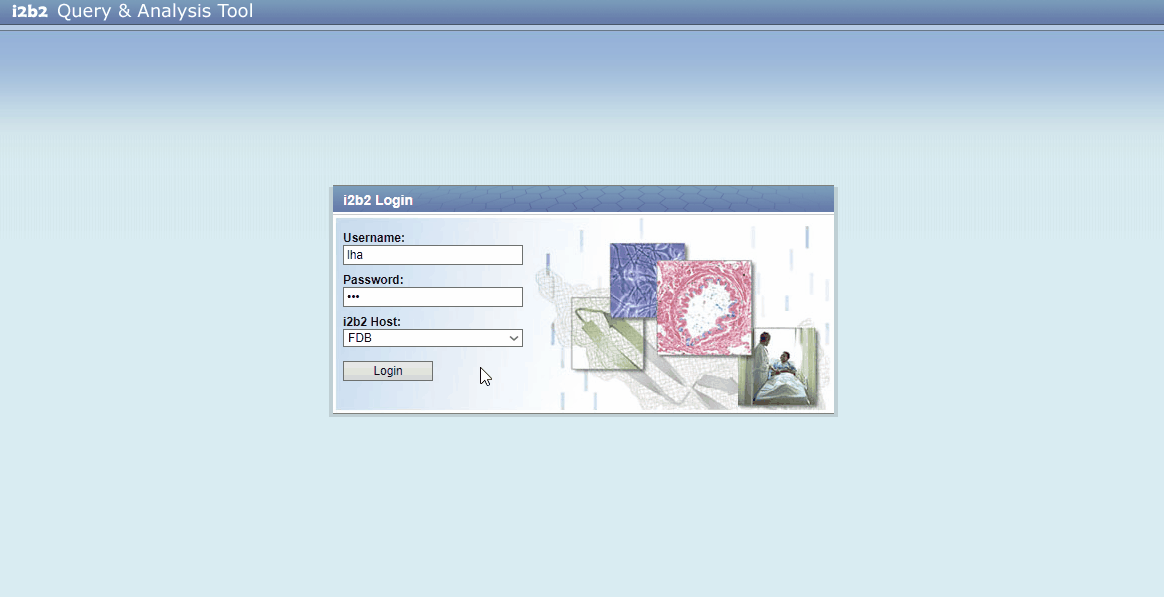 I2b2 queries can be much more complex. A complete introduction to the i2b2 system goes beyond the scope of this tour. Besides the included "Help"-Button on the upper right, there a many public i2b2-manuals available; e.g from Boston University: